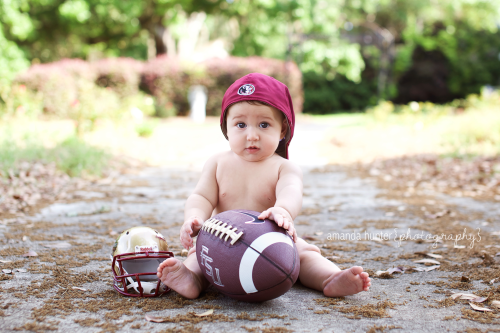 This was such a special session for me. My great friends Russ and Tiffany had a handsome little man 6 months ago (well, longer now. I'm very behind on blogging!). I was lucky enough to do his newborn photos, so watching his transformation from behind my lens is just so fun!
Tiffany ALWAYS has great ideas and props for their photo shoots, and this session was no different. These guys love sports so we HAD to show some team spirit! Go NOLES!
They picked Shiloh Farms for their location and it was soooo gorgeous! I had never shot there before so it was such a treat! There is a fee, but it's definitely worth every penny! I can't wait to shoot there again soon! Here are some of my favorites from Lincoln's 6 month session.
Wasn't that such a great spot for pictures in Tallahassee?! I'm in love! If you need a Tallahassee child photographer, give me a call! 813-210-2236 OR you can email me at amanda.hunter17@hotmail.com
Find some of my other work at www.amandahunterphoto.com, or www.facebook.com/amandahunterphoto or www.twitter.com/ah17photography