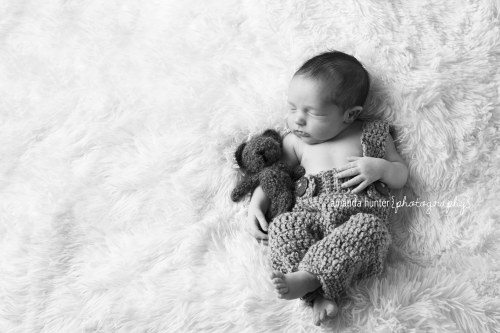 Baby Zane –  AHP Tallahassee Newborn Photographer
Ahhh that sweet sweet newborn smell…. Kind of like a new car smell… except more poop ;P haha But in all seriousness, is there anything quite like it? Well, I got to love on Baby Zane a whole month early! That's right! I had barely finished editing mom and dad's Maternity Session when I got the notification that Zane was on his way! What a big surprise for mom and dad! We got them in the studio right at the 14 day mark. I usually recommend 4-10 days old for Newborn Sessions, but because he was born a whole month early, it was just fine. He was a bit fussy and squirmy at first, but with a lot of patience and care (and milk), we got some amazing shots of this little super hero.
It's always fun when clients have ideas for neat, unique themes for their kids. In this case, they had a Thor outfit that was so adorable. Then they chose precious overalls that I had in my prop stash. This session lasted right at 3 hours which is usually the case with Newborn Sessions.  Take a look at a few of my favorites and call me if you need a newborn photographer in Tallahassee!
If you'd like to see MORE Newborn Photography from AHP, check out my Newborn Portfolio!
http://www.amandahunterphotoblog.com/?p=30450
Let's create something beautiful for your family.