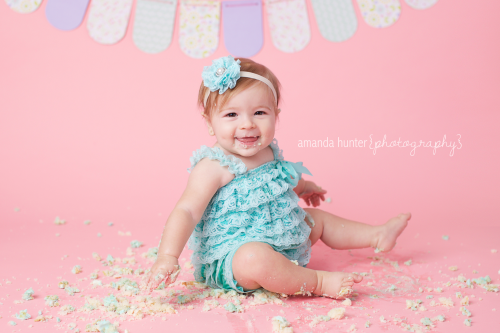 I've said this before and I'll say it again (and probably MANY more times)… I LOVE Cake Smashes!! So colorful and fun! Definitely the best way to capture your one year old in all their glory.
Sweet sweet Zoe came to see me a few weeks ago. Her mom and I had lots of chats about decor and design so we could match her bedroom and style! I just love the shabby chic look to the "before" portraits. And the fun bright colors of the Smash just compliment her little personality!
I also need to thank Leanna from Cake Me With You for making this gorgeous cake to match our color scheme! I'm so excited to be working with her on these types of sessions now! Go check out her page!
Here are a few of my favorites! Which one do you love? Leave me a comment or share the blog post!
If you have a child turning one soon and needs cake smash pictures, call me for your free consultation! We can plan the perfect shoot for your little one! Find more info on my website or Facebook page!